Our Customers
The Web's leaders optimize their images and accelerate their websites and eCommerce with ImageEngine.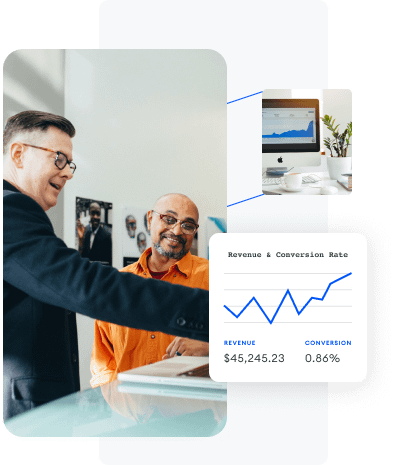 + TB
Payload Optimized Per Month
Hundreds of Major Customers
Customer Reviews
See what our customers are saying about ImageEngine
5 / 5
We loved how easy it was to implement and use. But most of all, we loved their team of dedicated professionals who are kind, understanding, responsive, and truly care about helping your business succeed. William L. - Co-Founder - Fine Art
5 / 5
Overall: I'm pretty satisfied with this tool, managed to get great results and can't praise it enough.
Pros: This software helped me to load up my images faster than ever. I don't remember the website ever being this fast. Great tool to use, easy installation and nice features.
Cons: There are really no bad stuff about this software.
Sven H. - Power engineer
5 / 5
"Most Advanced Smart Image CDN"
Overall: ImageEngine provides an excellent solution to image delivery across the wide variety of devices and browsers you must support. For each device, it returns a version of the image with optimized pixel dimensions based on device resolution and DPI, compressed using the optimal, supported, next-gen image format. ImageEngine removes the need for graphics designers, front end developers and content creators to worry about image compression/formats and cross device/responsive versions of each image. It just handles it automatically.
Pros: ImageEngine currently has the most advanced device/browser detection functionality and returns the smallest images sizes, compared to other CDNs, without reducing the visual experience. Images often represent the largest number of bytes transferred for a page and after a 70-90% reduction, page load times decrease dramatically and engagement and conversion rates increase significantly.
Alternatives Considered: Cloudinary, ImageKit.io, Fastly, imgix and Cloudflare
Reasons for Choosing ImageEngine: ImageEngine returns the smallest images sizes, compared to other CDNs, without reducing the visual experience, at an affordable price.
James F. - Founder -Retail
5 / 5
Overall: We mainly wanted to resolve the image related issues/opportunities mentioned in our Google web vitals report. The report suggested to properly size the images and serve images in next gen formats. So we look out for an image CDN and imagengine worked perfectly for us.
Pros: Automatically converted the jpg images on our website to webp. This solved the issue of images in next gen formats mentioned on our Google pagespeed insight score.
Cons: It worked perfectly for our requirement. Slightly more expensive that other CDNs, but they also optimized the image payload by 78%. So no complaints!
Nithin K. - Owner -Architecture & Planning
4 / 5
"Great software"
Overall: Reduced our bounce rate and payload, increased user engagement through mobile, higher pageviews over time
Pros: We used the CDN feature which reduced our payload significantly, since our e-commerce is image-heavy and we want to maintain high quality images while loading quickly.
Cons: With the initial deployment there were minor setbacks and some of our editorial images got very pixelated (over-compressed) but then improved over time.
Stephanie Erlita A. - E-commerce Manager -Luxury Goods & Jewelry
5 / 5
"Essential part of your website speed optimisation toolbox"
Pros: Managed to get more than 80% payload reduction on my ecommerce site directly reducing bounce and increasing conversions significantly.
Cons: It does not compress any videos you have on the site.
Reasons for Switching to ImageEngine: Cloudflare CDN was too basic and their image compression wasn't as impressive.
Chris T. - Principal Consultant - Information Technology and Services
5 / 5
"Great service with exceptional customer service support"
Pros: The features are easy to use and implement on our web services. We've been using the service for about 3 months now and I've never experienced any issue on the service. The customer service supports also responds quick and knowledgeable about the services offered.
Cons: None, so far. All features run smoothly.
Angelo M. - Information Technology Specialist - Information Technology and Services
5 / 5
"An outstanding tool!"
Pros: The ease of install and usage! It was really simple to setup and use. Review collected by and hosted on G2.com.
Cons: I think beyond the initial install the optimization process takes some practice to set properly.
Adam P. - Site Manager
5 / 5
"Problem with Wordpress"
Pros: I like the fast installation of the product. It helped me to increase the image size to 7000 subpages of wordpress. It make me the website much faster.
Cons: I don't have something i don't like. My target is to make the website faster and I have establish it.
Recommendations: continue like this
What Benefits have you Realized? Decrease image size (7000 subpages)
Administrator in Financial Services
4 / 5
"Efficient and easy to use"
Pros: Ease of use, easy to integrate, and that it actually works.
Cons: Didn't really have anything in particular.
Recommendations: Give it a shot. You won't be disappointed.
What Benefits have you Realized? Page speed optimization
Administrator in Computer Software
4 / 5
"One of the best CDN around."
Pros: Well optimized image and fastest loading site to improve SEO.
Cons: Plans are quite expansive compared to other CDN.
Recommendations: The payload of the entire page can be reduced by more than 50%.
What Benefits have you Realized? Faster website loading with an optimized image for different devices.
*-Upadesh S., Structural Engineer, Civil Engineering *
5 / 5
"Extremely Simple to Implement Image CDN with Built In Optimization"
Pros:
Simple to implement

Device detection

Optimization based on Device detection

Customer support
Cons:
Payment systems need some improvement
What Benefits have you Realized? Delivery of device-optimized images to reduce the loading time.
Executive Sponsor in Computer Games
3 / 5
"Great tool"
Pros: Ability to keep images in skew while building on multiple platforms. Review collected by and hosted on G2.com.
Cons: Pretty neat tool, no real complaints. Great for users of all skill sets.
What Benefits have you Realized? It's helped with placing images on sites. Makes for a better UI
Consultant in Computer Software
5 / 5
"Easy to use CDN"
Pros: Love the auto-optimization across multiple devices.
Cons: The WordPress plugin is functional but could use some UX/UI love.
What Benefits have you Realized? We were able to quickly integrate our very large WordPress site and auto-optimize across all devices with ease.
-Mark H., T Consultant
5 / 5
"An Excellent Product with Even Better Support"
Pros: After vetting a number of solutions to comply with Google's Core Web Vital requirements, ImageEngine was a clear leader in Page Speed performance upgrades.
Cons: I have been completely satisfied with this solution and have been deploying it regularly as a part of our website development services.
Recommendations: Great product with an excellent support team. Highly recommended.
What Benefits have you Realized? Page Speed performance is not only visible in normal browsing activity, but recognized in page speed performance testing. ImageEngine works as advertised.
-Joel B., Owner